HOTEL OF VERDUN 1882 IN LYON :
Elegant 4-star rooms and suites


Built around a beautiful stone staircase, each of the 30 rooms is accessed via an intimate landing. The cosy and elegant atmosphere prefigures the spirit of the 1882 rooms.
Several rooms are connected, allowing for a private space for friends or family.
The rooms with their characterful vintage furnitures are chic and elegant. The wooden panelling that runs along the walls extends the elaborate window surrounds. Soft and delicate materials are combined with warm and soothing colours... Books from the Gallimard white collection, whose choice was guided by the affection we have for their authors, are nestled on the shelves. The walls are punctuated by photos and posters from our personal collection.
Ideal for a solo traveller, these cocooned, quiet and soothing rooms are all located in the courtyard building.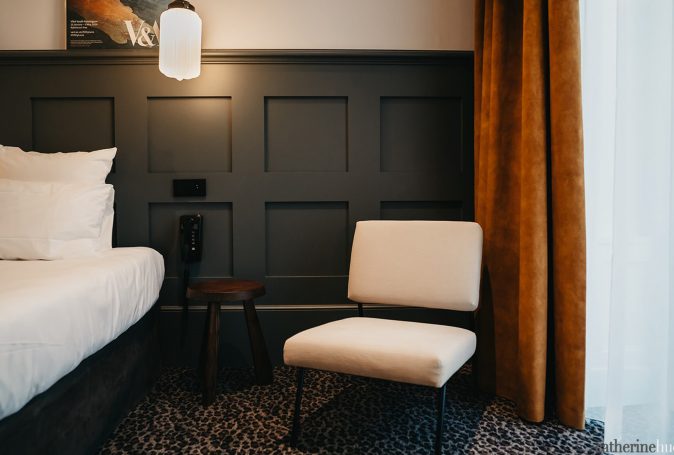 Located in the main building (in the former mansion), on the street or on the courtyard, these rooms offer a soothing and enveloping atmosphere with their beautiful materials, their soft colours, their Madeleine Castaing style carpeting and their pretty opaline light fittings.
Chambre d'Honneur (Junior Suite)
This room, the most spacious, is a concentration of the spirit of 1882. With its generous and cosy bed (180cm), it offers from its balcony a view on the rue de la Charité.
For friends, siblings or couples, this spacious room is a cosy nest with two 90cm beds, in the beautiful spirit of the 1882.
A room with a beautiful surface that can accommodate a family or a tribe thanks to its (real!) cosy bunk beds or the sofa that can be transformed into a bed.